National Match Armory:
"PROJECTS" - RIFLES WE'VE BUILT FOR CUSTOMERS IN RECENT MONTHS THAT WE THOUGHT YOU'D LIKE TO SEE...
1903a1 USMC "SNIPER"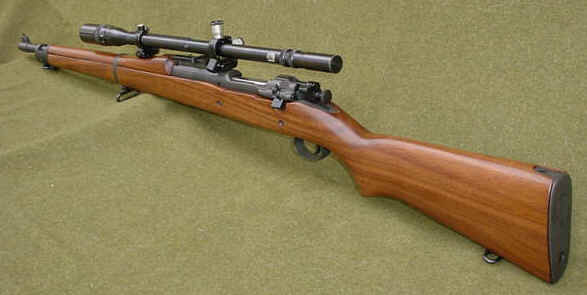 WE BUILT THIS NEAT REPLICA FOR ONE OF OUR WORLD-TRAVELING CUSTOMERS. WHILE IT LOOKS PRETTY MUCH LIKE AN ORIGINAL USMC "SNIPER" ON THE OUTSIDE, IT'S ACTUALLY GOT A LOT MORE UNDER THE SKIN...LIKE STEEL BEDDING AND ONE OF OUR GREAT KRIEGER-MADE MATCH BARRELS. MORE DETAILS LATER... FOR NOW, JUST ENJOY THE PHOTOS!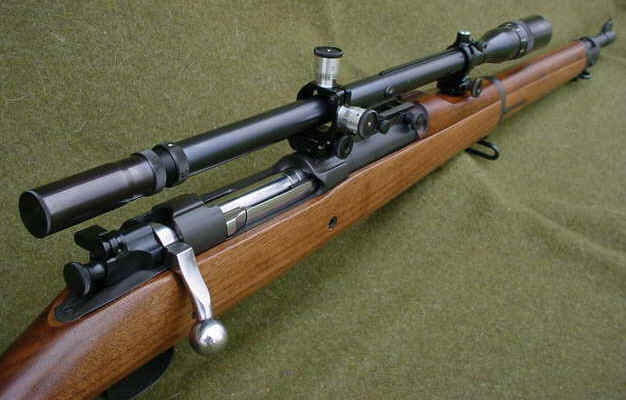 * * * * *
SPECIAL TARGET RIFLE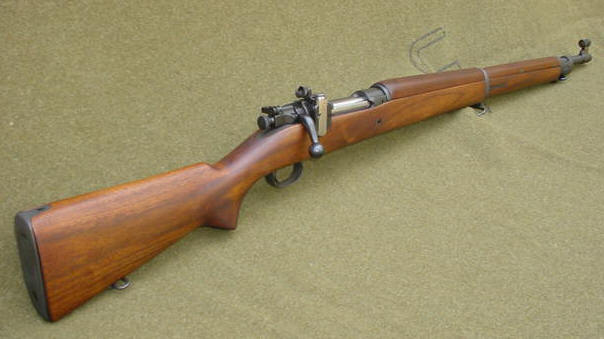 Here's a brand new rifle...July 2008...that's a very typical example of the NMA "Special Target" rifle configuration. This one is built on a Springfield Armory 1903 Mark I action. It features a Krieger match barrel and lots of internal fine-tuning to make it much more accurate than a standard Springfield Match rifle...even one of ours!
To clean up the lines of the rifle, the original rear sight has been removed and replaced with a 1904-A3 hand guard. A pair of target-style sights have been installed; a restored vintage Lyman micrometer sight in the rear, and a current production NMA globe target sight in front.
The rifle has been treated to full cosmetics, of course, including a combination of dark gray parkerize and matt blue metal finish. It also features a combination polished and blued bolt and our proprietary dark walnut traditional stock finish. It looks like it's a genuine antique...but it's brand new.
* * * * *
Okay, Here's Another One you might like...
M14 XM21...(well...kinda, sorta...)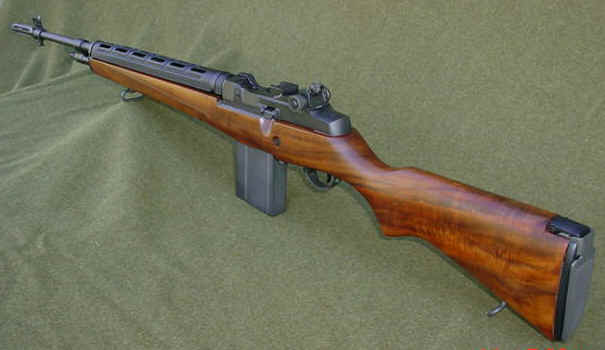 This time an old "plain-jane" pre-ban M1A we worked over for a customer who'd owned it for years but could never quite warm up to it.
A few months later it rolled out of our shop as a pretty fair likeness of the legendary Vietnam-era M14 XM21 "sniper"...only prettier, of course.
All it needs now is the ART II optics system and it's ready for some serious work.
Don't expect he'll have too much trouble warming up to it now...do you?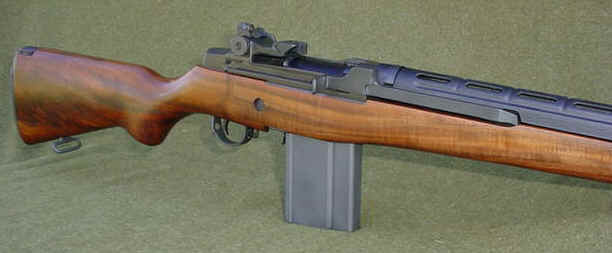 * * * * *
And...Yet Another Long-Range Target Rifle...
MEMORIES OF DAYS GONE BY...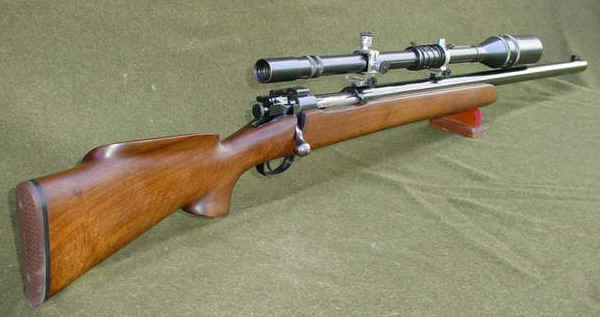 THIS OLD-TIMEY ROCK ISLAND '03 TARGET RIFLE BEGAN AS A PILE OF CAREFULLY SELECTED WELL-USED PARTS FROM HERE AND THERE...MOSTLY JUST GUN SHOW JUNK...COMBINED WITH A 28-INCH DOUGLAS .308 BARREL AND A SUPERB OLD UNERTL TARGET SCOPE.
IT WAS MANY MONTHS IN THE MAKING, USING WHATEVER SPARE TIME WE COULD FIND BETWEEN OTHER MORE PRESSING RESPONSIBILITIES...

BUT, HERE IT IS. FINISHED AT LAST, WITH ONE LONG-RANGE MATCH UNDER IT'S BELT ALREADY.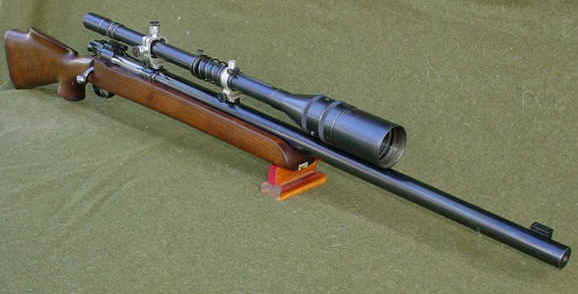 BUT ALAS, IT'S ALREADY APART AGAIN, BEING TRANSFORMED ONE MORE TIME... WE JUST CAN'T SEEM TO LEAVE ANYTHING ALONE FOR LONG!
* * * * *
This 1903A3 looks deceptively stock on the outside, but it's full-race on the inside, destined for Germany to do battle with the Mousers in their own brand of Bolt-Action Service Rifle competition!
International Match...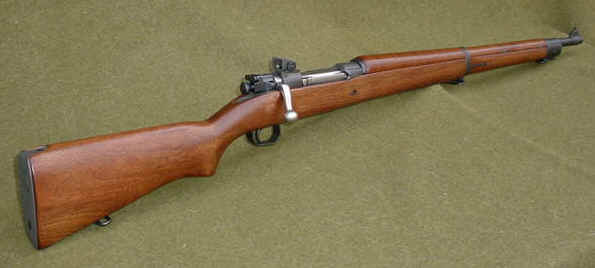 In Germany, the rules are a little different than they are here. For example, while the sights must be as-issued, bedding and custom triggers are allowed...so this A3's got 'em both.
And, it's got all the basic internal preparation, fitting and accurizing which make National Match Armory Springfield NM '03 rifles so smooth, reliable and accurate...as well as great looking!
It's also got one of our great Krieger barrels, a polished bolt and our unique Signature Series metal and wood finishing. Now it's just a matter of the new owner working up a load it likes...then bring on the Mousers!
* * * * *
Just Another Pretty Face...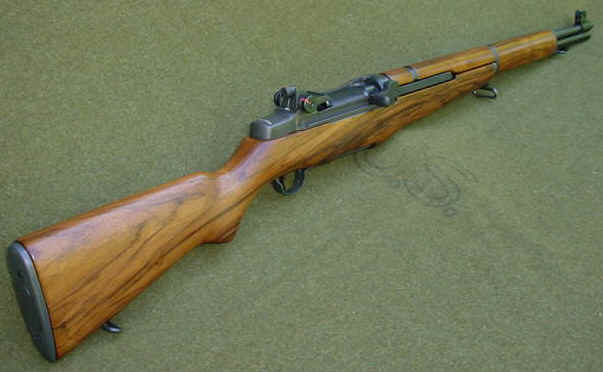 Question: What's the difference between the rifle Eric Pierce will shoot in the 2005 CMP Service Rifle matches - including Camp Perry - and the Entry-Level NMA Expert M1 YOU can buy?
Answer: The serial number.
Eric's 2005 match rifle is a basic Expert Package with a few upgrades which include a .308 Krieger military profile barrel, pressure steel bedding, NMA Series II sights, English Walnut furniture with Signature Series metal and wood finishes.
Blah, blah...woof, woof! Nothing special. Just another pretty face.
Okay, then, think of it this way: 193-8x @ 600 yards first time out...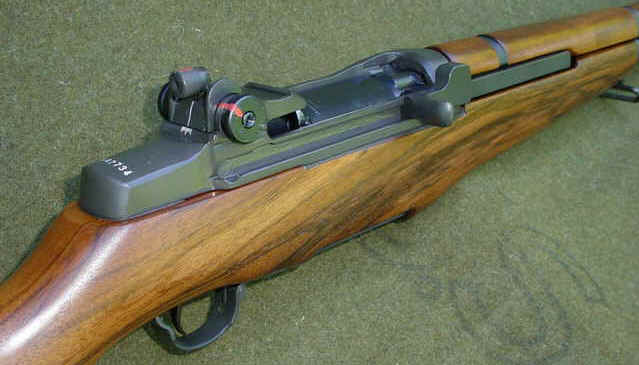 Just think how well it will do with a little practice...
* * * * *
Harry's Challenge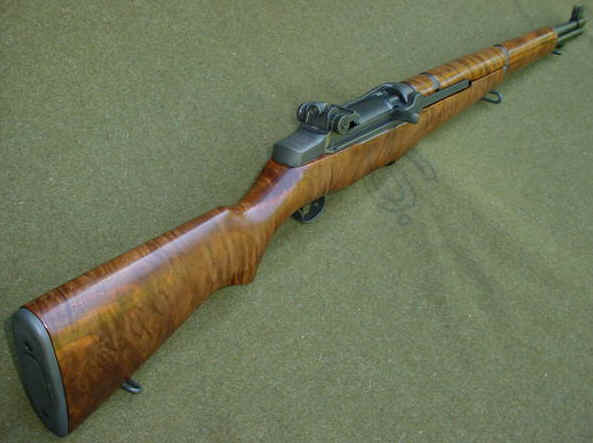 "I want you to build me the prettiest M1 I've ever seen...and one that'll shoot the whiskers off a gnat at 600 yards." That was the challenge.
"And...it needs to be in .30 Government, just like original..." And so it is, with a Krieger match grade barrel in the military profile, caliber and twist.
"...maybe like a really modern version of the original M1 National Match rifle that everybody thinks so highly of...bedded and with sights and everything...
"Oh, and pretty...it's got to be pretty...did I say that already?"
* * * * *
THere's more to come...
stay tuned!
National Match Armory!
* * * * *
National Match Armory
"Why settle for less?"
Thanks for visiting www.nationalmatcharmory.com. Come back soon.