National Match Armory
ALL NEW "UNLIMITED" M1 GARAND MATCH RIFLES!
What is a National Match Armory "Unlimited" Match Rifle?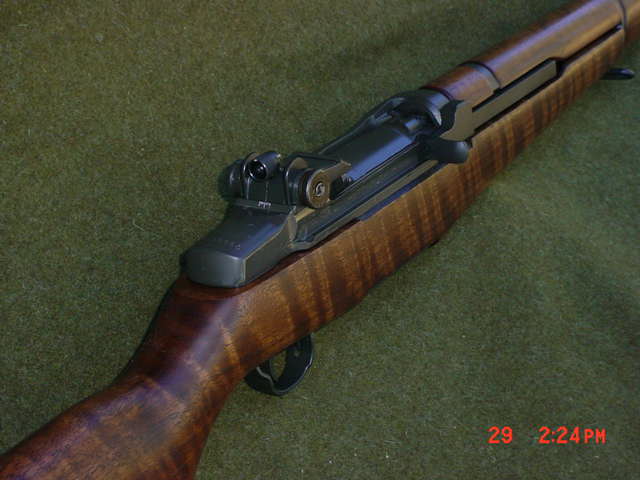 (This "Unlimited" Match Rifle features upgraded wood and Series II NM sights.)
The "Unlimited" Match Rifle has become the most popular rifle we build at National Match Armory for three important reasons:
First, at the new base price $2995 (customer-supplied rifle), it is, for an entirely hand-crafted custom match rifle, very affordable,
Second, it is highly competitive in the new CMP Unlimited M1Garand Class as well as NRA and CMP Service Rifle competition, and...
Third, it can be upgraded at any time in the future to a "High Master" Level rifle (while it can be done, we do not recommend this course of action...planning ahead is always a better way to go).
Every "Unlimited" Match Rifle, like all rifles built at National Match Armory, is hand built one at a time by riflesmith Eric Pierce himself. Each is an individual with subtle differences, but each is superior in terms of craftsmanship and performance.
Like all NMA-built rifles, the "Unlimited" Match Rifle can be built from a rifle you already own.
Here's an excerpt from the latest CMP Rule Book regarding their new "Unlimited M1 Garand Class" for which the National Match Armory "Unlimited" M1 was designed and named:
"6.4.1 Unlimited M1 Garand Ri
fles
An Unlimited M1 Garand is a rifle that does not comply with Rule 6.3 for As-Issued
M1 Garands. Unlimited M1 Garands may be fired in a sanctioned match
if an Unlimited M1 Garand event or category is included in the match program.
Unlimited M1 Garands must have an M1 Garand external configuration, may
weigh no more than 10.5 pounds and must have a trigger pull of at least 4.5
pounds. Unlimited M1 Garands include, but are not limited to, the following:
(1) National Match M1 Garands or M1 Garands with "NM" parts other than
NM operating rods.
(2) M1 Garands modified to fire the 7.62mm NATO cartridge.
(3) M1 Garands with accurizing modifications such as glass bedding, sight
adjustments finer than one minute of angle, modified upper hand guards,
etc.
(4) Commercial, replica or foreign manufactured M1 Garands.
(5) M1 Garands with U. S. government glass-bedding or shims."
* * * * *
Basic "Unlimited Match Rifle" Package:
* Stunningly beautiful new American walnut stock and handguards, hand shaped, sanded, stained and oil finished as only National Match Armory does it,
* A new excellent quality button-rifled match-grade barrel manufactured by Krieger Barrels with original GI NM weight and contour in .30-06 caliber is standard (upgraded .308/7.62x51 caliber also available at no extra cost),
* Proprietary steel bedding to tightly fit receiver in stock and provided proper barrel tension (Note: Expert Level Match Rifles ARE NOT legal in John C. Garand matches. See "John C. Garand Match Rifles" page of this website for more information.),
* Proprietary accurizing (called our Famous 12-Step Accurizing Program) including proprietary non-fragile hand guard modifications, hand-fitting, smoothing and blueprinting throughout,
* A smoothed and lightened trigger with crisp let-off,
* National Match Armory "Series II"1/2 minute National Match rear sights/.062" National Match front sight,
* A 90 day conditional warranty, parts and labor.
* Base package price: $2995 on customer-supplied rifle (prices may vary at any time for any reason).
"Unlimited" Match Rifle Upgrades:
* "Signature Series" metal finishing, a beautiful hand-burnished finish over smoothed, deburred and hand-prepped exterior metal surfaces which includes a combination of Parkerized and eggshell blue-black finishes...a very handsome addition to any of our custom built rifles.
* NMA Exclusive Pressure Steel Bedding w/ rear pillar,
* Upgraded furniture in Semi-Fancy and Full-Fancy American and AA English Walnuts
* much, much more...just ask!
* * * * *
What kind of performance can I expect?
Capable of performance in the area of +/- 1 MOA (using selected Match grade ammo or skillfully worked up hand loads), National Match Armory "Unlimited" Match Rifles have proven themselves up to the task in NRA and CMP Service Rifle competition from Texas to Camp Perry.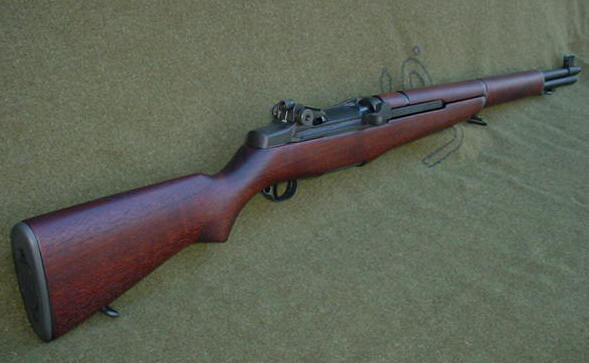 Basic National Match Armory "Unlimited" M1 Garand
In the hands of a well-qualified shooter, with quality match ammo suited to the rifle, an "Unlimited" Match Rifle can easily score "possibles" in across-the-course CMP/NRA Service Rifle competition. It is absolutely unbeatable in CMP "Unlimited" M1 Garand competition!
Over and above accuracy, National Match Armory "Unlimited" Match Rifles feature smooth, positive operation that inspires great confidence in the shooter.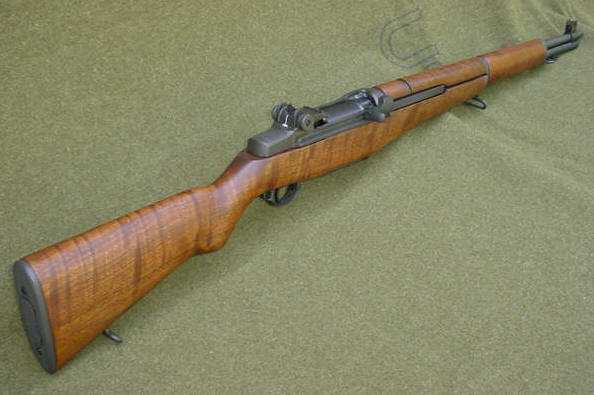 Upgraded National Match Armory "Unlimited" M1 Garand w/ Semi-Fancy American Walnut
Loading, feeding, cycling and clip ejection are butter-smooth and precise, leaving the shooter to focus on his shooting - and only his shooting.
The beauty of an "Unlimited" Match Rifle is that it is an excellent entry-level rifle while also being "enough rifle" to see you through to an NRA Master or High Master classification...as your shooting skills grow, of course. (See the "Master and High Master Match Rifle" page for more information.)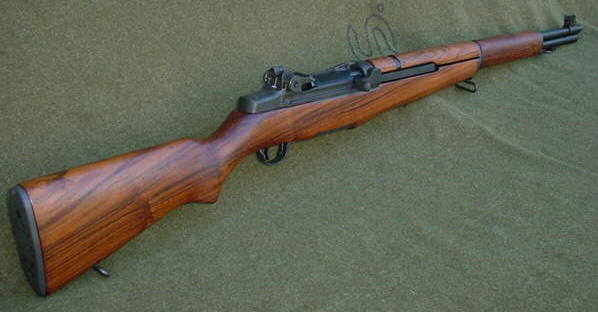 Upgraded National Match Armory "Unlimited" M1 Garand w/ English Walnut Stock
If, on the other hand, you only plan to shoot from a bench at your local range or in an occasional local match, you can use the base model "Unlimited" in complete confidence that the rifle won't hold you back.
Though most often chambered in .30-06 in the basic package, we highly recommend chambering your new "Unlimited" Match Rifle in .308 caliber. We feel that performance is superior to .30-06, the rifle is easier to shoot and the practice ammo is much, much less expensive. The choice, however, is yours.
Regardless of the caliber, the fit and finish of every National Match Armory Match Rifle is superior by every measure, inspiring even more confidence by its very look and feel.
It's quality, and it shows.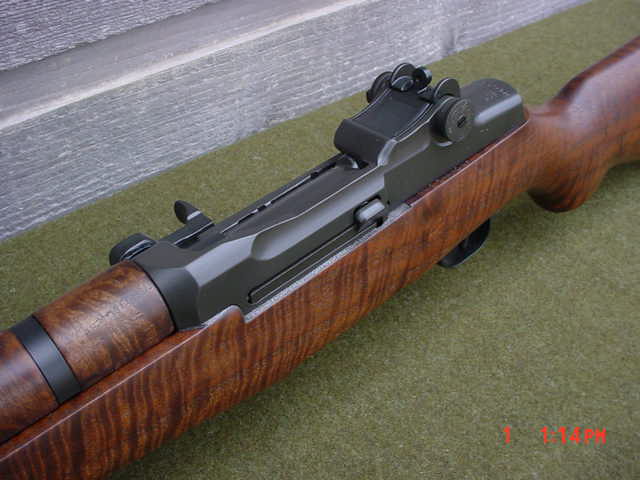 Upgraded National Match Armory "Unlimited" M1 Garand w/ Full Fancy American Walnut (not always available)
How much will it cost?
We most commonly build "Unlimited" Match Rifles from a gun you already own - $2995 (not including any upgrades, additional parts or repairs).
We can upgrade over and above the base model "Unlimited" at the same time we are initially building your rifle, if you want, with stocks, bedding and accessories. Also, see our "Master and High Master Match Rifle" page for even more performance-oriented upgrades.
Each rifle is an individual, and building it to suit your needs and taste is our specialty.
How do I go about ordering a rifle or getting mine rebuilt?
If you think rebuilding your own rifle to "Unlimited" specifications would fit your needs, the next step is to get in touch with us.
You can send us an email at nationalmatcharmory001@msn.com or give us a call at 817-874-9115 ( or our message center at 817-478-5721) letting us know you're interested in an Expert Level Match Rifle or upgrade, and we'll figure it out from there together.
Talk to you soon.
* * * * *
National Match Armory
"Why settle for less?"
Thanks for visiting www.nationalmatcharmory.com. Come back soon.